San Francisco is one of my favourite cities in the United States and many people just seem to love the mix of culture and openness, and a way of life that you just cannot seem to find in other cities in the States, let alone the world. It is always important to me to share posts with you guys about destinations that I like going to and this time it is San Francisco. You worry about booking your hotel in San Francisco, and I will worry about the things you should see. Enjoy reading!
Golden Gate Bridge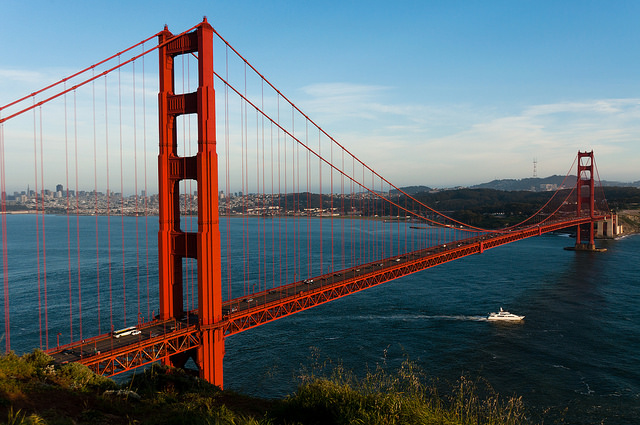 Image via Flickr by Tearstone
This is undoubtedly the most iconic image of San Francisco and is world-renowned. It is absolutely huge at over 80 stories high and creates one of the most stunning views of the bay in combination with the ocean. It is always a great idea to head to San Francisco when the weather is good, so I would definitely recommend midday, but keep an eye on the weather, and you can never go wrong.
Walking is a great way to experience the bridge, but I also loved riding my bike there too. These are truly going to be some of the best views of the city and the bay that you are likely to see. If you want to learn more about the history of the bridge, I highly recommend the visitor center there too.
Take a cable car
The cable cars are an absolute must when traveling around San Francisco. There are a number of routes that offer stunning views and refuge from walking some of the very steep streets that you can find in the city. I love to take them everywhere, and it is a nice way to look around and truly experience what is on offer. You simply jump on and off them and go wherever you want. If you're curious to learn more, you can also visit the free cable car museum.
Visit Golden Gate Park
Whenever you hear the locals talking about the park, it is almost certain that they mean Golden Gate Park. This huge rectangular park starts in the heart of the city and reaches all the way to the end of the island into the stunning Pacific Ocean. The park is filled with various gardens, playgrounds, and even a golf course. You won't be searching for things to do here, they will literally be right in front of you.
You absolutely must see the Conservatory of Flowers, which is a restored 1878 Victorian greenhouse that houses over 2,000 species of plants and flowers. It is like another world being in a huge greenhouse with some of the most exotic and beautiful plants that you are ever likely to see in your life.
I also really enjoy the Japanese Tea Garden in Golden Gate Park, especially because I am a huge fan of these types of gardens. This particular garden gives you the feeling that you could truly be in Japan with a Japanese temple, a curious looking bridge, and all the well-kept and trimmed plants that the Japanese are famous for.
Whatever it is that you are looking to see, you are going to have a great trip. Enjoy your first time in San Francisco!
A first time visitors guide to San Francisco, California