Seattle is one of those special places that everyone should visit at least once in their lives. I love everything that the city has to offer, whether it is the nature, history, culture, sights, or even just the amazing IHG hotels in Seattle. It is also one that I would recommend to any of my friends, family, and readers. I wrote this short guide to give you a taste of what Seattle is all about, and how you can spend 48 hours there. I hope you enjoy it!
Olympic Sculpture Park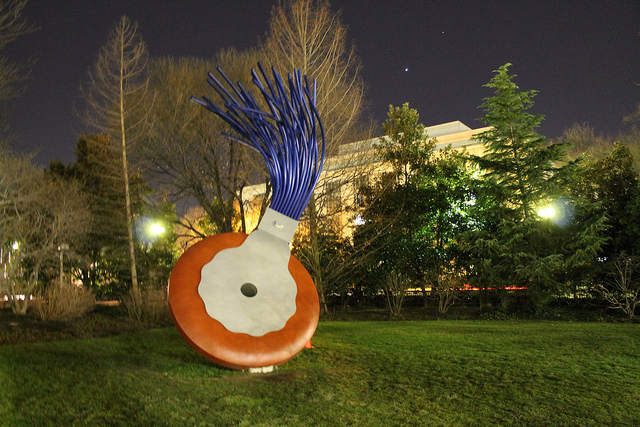 Image via Flickr by Elvert Barnes
This is a must-visit for anyone heading to Seattle; this park is home to a number of sculptures from world-renowned artists like Claes Oldenburg and Alexander Calder. Currently, you can see Oldenburg's work "Typewriter Eraser, Scale X" on display in the park, which is an incredibly unusual giant sculpture of a typewriter eraser. It really is surreal to see something like this, but it makes the park a special place that is unlike any I have been to before. Another cool feature of the park is definitely the beach, which is a great place to hang out in the summer months. Plus, this park has amazing views of Puget Sound, which you won't find anywhere else.
Visit Olympic National Park
The Olympic National Park is an incredible park that has a huge million acres — much of which is wilderness — and is the place to go for some adventure if you are in Seattle. The park offers endless miles of coastline, forests, unique ecosystems, snow-capped mountains, and some special wildlife to top it off. Aside from this, the park has an incredible history with over 600 archeological sites that span 12,000 years of human history. This really is a place to get out of the city, take a walk, and enjoy the most beautiful nature that you can imagine.
The Space Needle
No visit to Seattle could ever be considered complete without visiting the Space Needle. Riding the elevator 520 feet above the ground is always something interesting to do, and the views from the observation deck are stunning with the unique combination of the surrounding mountains, islands, and water. The Space Needle is also an ideal place to view the sunset. This is best achieved in every season except for summer, when the sun sets around 9 p.m., making it difficult with the Space Needle closing at 8! If you want the best views of the sunset and the glowing lights of Seattle, always check when the sun is setting.
Hop Across the Border
One of the benefits of visiting Seattle is the fact that Canada is very close, and you can take the bus, drive, or take the train to Vancouver. It takes just over 2 hours to drive there, meaning that you could even make a little day trip (or overnight trip, if you fancy). I would highly recommend spending a few days in Canada if possible and then heading back to Seattle of course.
There is so much more in Seattle to explore, take some time off and explore this magical place for yourself!
Spending 48 hours in Seattle, Washington